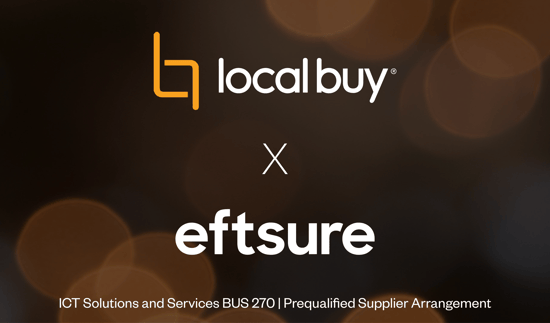 With Business Email Compromise and other cybercrimes on the rise, this is good news for all organisations who use the Local Buy Panel and can now access eftsure's unique payment protection platform.
The purpose of the Local Buy Panel is to provide Local Governments in Queensland, Tasmania and the Northern Territory and other defined Purchasers with a Register of Prequalified Suppliers (RPQS) for the supply of ICT Solutions and Services.
Commencing on 1st July 2019 this arrangement may be accessed by all Queensland, Tasmanian and Northern Territory Local Governments and other approved Purchasers. Any other organisation with a public function or which is not-for-profit and subject to compliance with its procurement obligations, can use this arrangement.
eftsure has a unique Know your Payee (KYP) payment protection platform that provides organisations with rich data on suppliers in real time, before they pay the wrong supplier. Powered by a proprietary and massive Australian business database, this is achieved by doing a three way match that verifies the supplier's BSB and account number with their business name and raising a red flag if the payment being made does not match. This ensures that the right payments are going to the right payees; avoiding fraud and internal errors.
eftsure mitigates the risk of internal fraud or external fraudsters changing bank details via fake invoice emails, or simply because an employee enters the wrong account details or transposes bank account numbers. In this age of increasing cybercrime, eftsure's platform offers a unique solution to mitigate the risks and remain a step ahead.